 Candice Ward - USA Today Sports
Logical Expectations is a new feature that will run throughout the off-season detailing what should be expected from the individuals that will make up the Calgary Flames in 2015-16. Should management make any on-ice personnel switches in the off-season at any time, well, here comes a Logical Expectations post.
Today's featured Flame is goaltender Jonas Hiller.
Jonas Hiller had an up-and-down debut with the Calgary Flames in 2014-15 - he could often go a week without giving up a goal, and then the next he'd be regarded as the then-backup behind Karri Ramo, who had a similar rollercoaster ride of a season. A 1A-1B tandem they were, with Hiller starting 44 games, and Ramo starting 32 - the other six were started by prospect Joni Ortio - and they fared similarly well, with Hiller going 26-19-5 with a .918 save percentage, and Ramo going 15-9-5 with a .912 save percentage.
With Joni Ortio coming into the second, one-way year of his contract in 2015-16, the Flames will have to make a decision on whom to keep as the starter - should it be the proven starter in Hiller, or the relatively new North American player in Karri Ramo?
This isn't the place where I'll discuss this question - look for that next week. But if the Flames decide to stop their trend of unloading Swiss players (see: Sven Baertschi. and soon, Raphael Diaz), here's what to expect from Hiller in 2014-15:
What Do We Want From Him*?
*Technically this section should be called What Do We Expect From Him but American Idol was just cancelled and, well...
Don't lose too many games, Hiller, or Simon Cowell will call you indulgent rubbish.
Expect Jonas Hiller to play inconsistently, but when he will inevitably play well, he'll play lights-out. For two weeks. He'll let in eight to Florida the week after.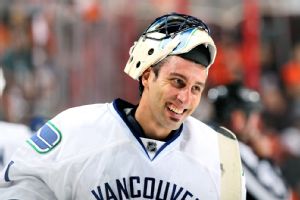 Take that! Eight past who now?
He'll win 6 straight, then he'll let in 35 goals in his next 8 games. Seriously. He's Rene Bourque, if Bourque was traded to Minnesota in 2009 and started playing on a line with Pierre-Marc Bouchard and that line was always played with Marc-Andre Bergeron's defence pairing, if Andy Wozniewski was traded to the Wild that year and started playing on that pairing. He's
that
inconsistent.
Two things I love about this video: David Clarkson scoring against the Leafs, and the fact that there are roughly 6,000 fans watching this game.
All right - that was a massive hyperbole: Hiller isn't nearly that inconsistent. He's actually a very good goaltender who can steal a sizable amount of games for any given team on any given date. But he still is inconsistent, and expect Hartley to play Ortio more than you'd expect this year.
Projected stat-line: 39-26-8, .919 SV%