 Credit: Sergei Belski - USA Today Sports
On Wednesday night, I found myself sitting in a flimsy folding chair at WinSport watching the Calgary Flames' prospects take on the U of C Dinos hockey club. While the game wasn't very evenly-matched (the Flames took the contest by a score of 6 to 1), it made up for that with its tremendous entertainment value.
Here are 13 maybe obvious, maybe trivial things that I noticed about certain people at the rink on Wednesday.
Hunter Smith
Smith stood out in a negative way in WinSport. He frequently initiated scrums along the boards after the whistle, once going up against a player 8 inches shorter than him. That just screams cowardice to me. Bob Hartley, who was up in the press box the whole game, was visibly unimpressed after one such scrum at the end of the game.
Hey, speaking of the press box...
Brian Burke's tie
The Flames' former GM and current President of Hockey Operations was also present in the press box, sporting his trademark 'snake-around-the-neck" tie look. This time, he tried to pair a bright blue tie with a pale white shirt.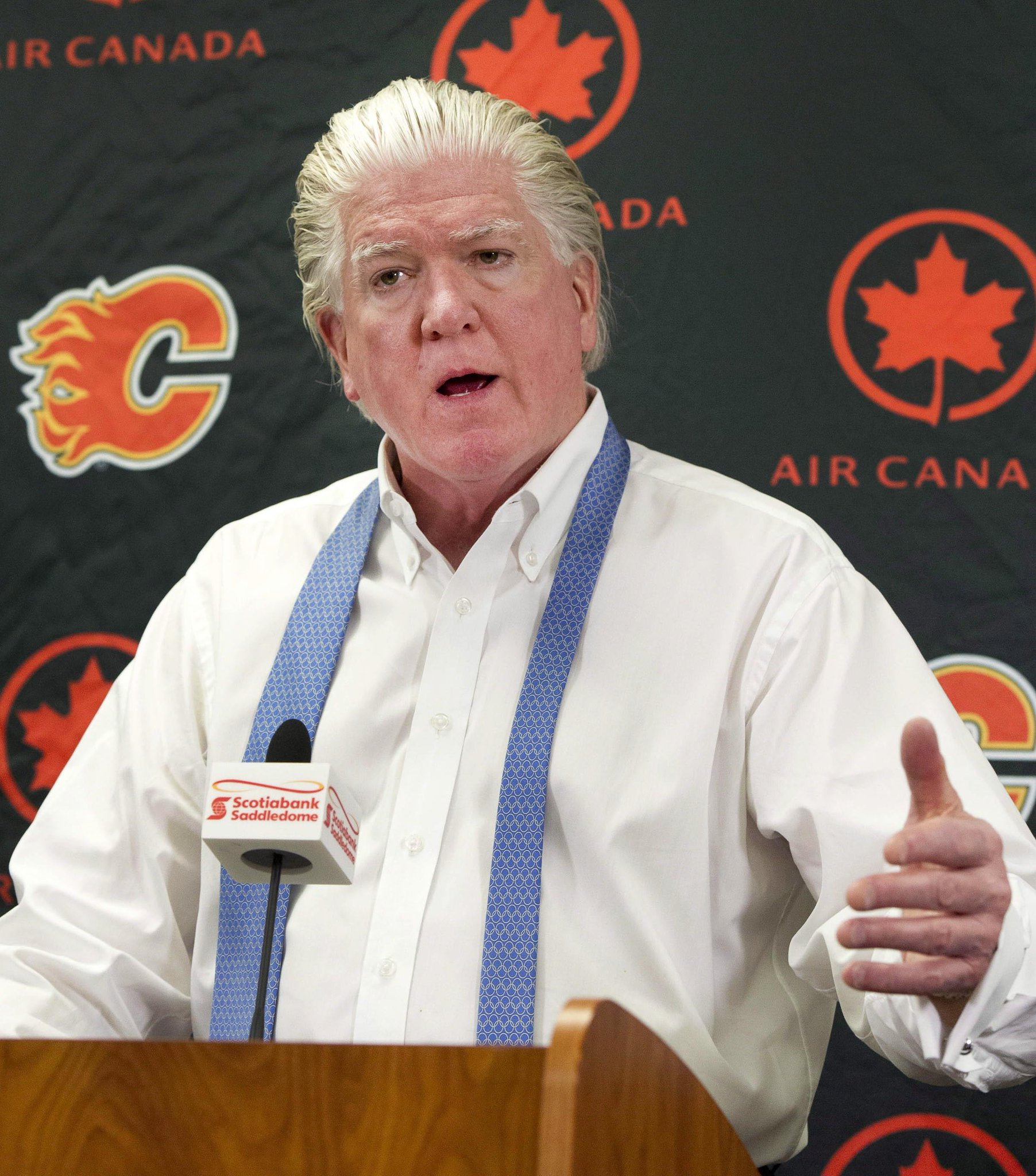 It was exactly the same look as this.
Eww. Next time, Burkie!


Austin Carroll
The Flames' 7th-rounder from 2014 made an impression on the scoresheet Wednesday, although likely not in his preferred way: the 21-year-old made two trips to the penalty box, once for high-sticking while smashing a player into the boards right in front of me (knocking my precariously-perched chicken strip basket off of the top of the boards and onto the ground - you owe me, Austin), and then for fighting.
Hey, if that's your thing...


Oliver Kylington
Kylington seemed slightly out of his element against the Dinos - apart from one rush, he never really dazzled with his renowned foot speed. He did register a couple of assists, but looked slightly lost on the ice. I'll give him the benefit of the doubt, however - he was still better than a lot of other players on the Flames.


Coda Gordon
Hey, there's a familiar name! Gordon, the Flames' 6th-round pick in 2012, never made it to the NHL level, but has caught on with the Dinos, and managed to score their only goal of the game in the third period on goaltender Nick Schneider. He was noticeable, in a good way, on a sharp-looking Dinos squad. Don't let the score fool you - they came out of the gate slowly, but once they got comfortable with the Flames' tempo, the college kids caught up easily.


Jon Gillies
Gillies posted a shutout on the night, playing in the first two periods and allowing no goals on nine shots. At times, he got some fortunate bounces - one shot hit the post, while another bounced off of his head Tommy Salo-style and laid in the crease before a defenseman swept it away - but overall, he played a pretty solid game which included an acrobatic save on a 2-on-1 and a clutch kick-save in the crease.


Mason Marchment
The ATO'ed Marchment was decent on Wednesday, with his lone really memorable moment being a fantastic move on an offensive-zone entry. The rest of his game was decidedly average, but that move was extremely slick.


Sam Bennett and Emile Poirier
These two rookies, along with Kenny Agostino, did not play in this game. However, when I ran into them in the concourse, they happily took photos with me and were very engaging and laid-back. That's what you want out of your young players, and the Flames' culture certainly has helped them along with that.


Andrew Mangiapane
This speedy winger was all over the ice in the game, but couldn't find the back of the net. That wasn't necessarily his fault - he was up against some of the Dinos' top lines - but I would have liked to see more out of him. He's got so much skill and talent, and he showed it at times - it just would have been nice for it to be more consistent.


Kenney Morrison
Morrison had a very good game: he scored the opening goal and was a very fluid skater and passer all night long. He formed an effective tandem for much of the game with Oliver Kylington, and Ryan Huska (the Flames' coach for the game) seemed to realize this - the pairing saw most of their time played against the Dinos' top forwards.


Rasmus Andersson and Keegan Kanzig
The big Swedish defenseman logged a lot of ice-time Wednesday, and with his big, booming shot and nice physical plays, why not? Andersson was a nice fit on a towering pairing with Keegan Kanzig. Said pairing was quite slow, however, so they didn't see much time against the Dinos' better lines, but they found a good spot in a shutdown role, and Coach Huska also played them frequently as a result.


3-on-3 OT
This was incredibly interesting. I predicted going into this extra period that something would happen, and something did: Evan Lomberg scored the sixth Flames goal of the game in this exciting five-minute extra stanza.
This will be great next year. I'm calling it.


Pavel Karnaukhov
Karnaukhov was easily the best player in Wednesday's game. His combination of speed, size, and scoring touch worked really well - he scored two goals to lead the Flames to their six-one victory. Could he be the Josh Jooris of 2015-16?
Only time will tell.