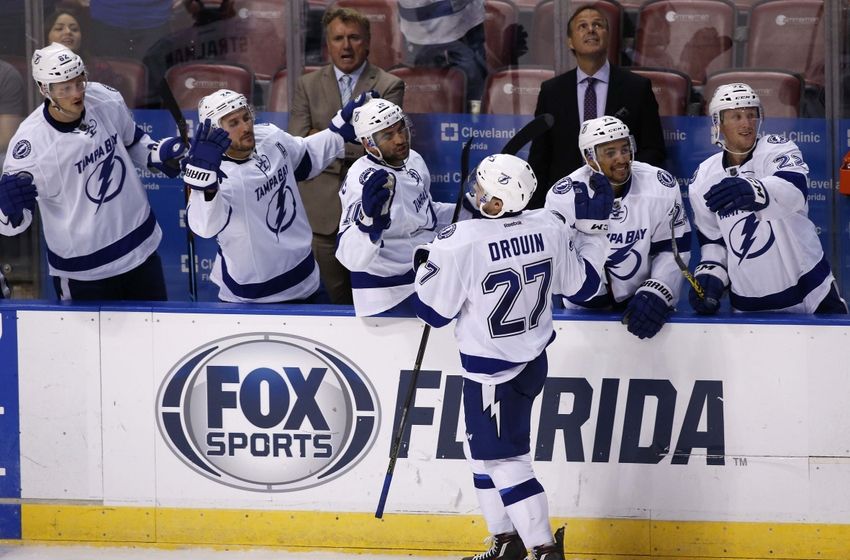 Credit: Robert Mayer - USA Today Sports
On Wednesday night, Lightning GM Steve Yzerman suspended highly-touted prospect Jonathan Drouin without pay for failing to report to the club's AHL affiliate in Syracuse. Drouin, the 3rd-overall pick in 2013, had been sent to the AHL following the release of information regarding the player's much-publicized and controversial trade request.
Why wouldn't Drouin want to play for Syracuse? Simple - he and his agent weren't pleased with how the Lightning's brass, including Yzerman, was treating him. His agent, Allan Walsh, confirmed this in a statement released Wednesday night: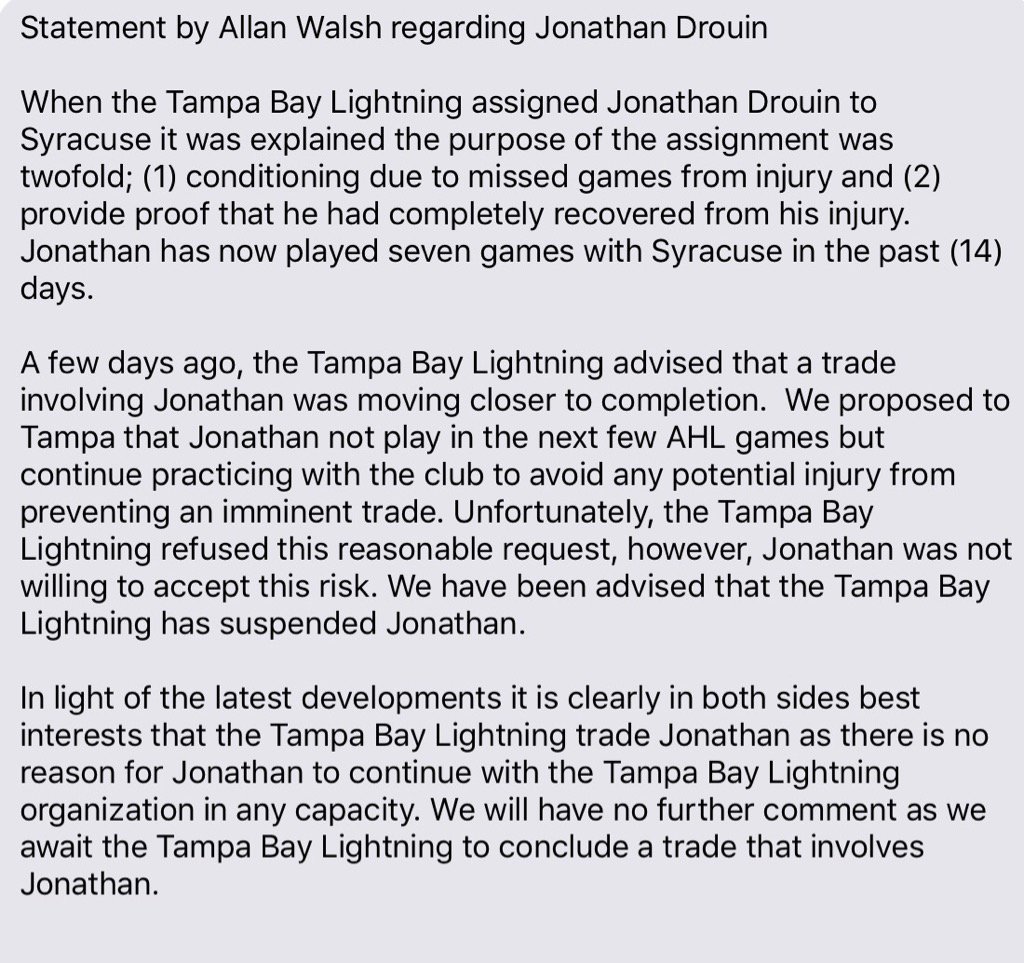 Thoughts:
- Jonathan Drouin will, evidently, never play another game in the Lightning's organization, which isn't surprising, given how this situation has transpired.
- You've got to wonder how this will impact Drouin's trade value - before this fiasco, he was widely regarded as a future stud stuck behind a deep lineup; now, he's seen as a player not committed to his team. The Lightning will be lucky to get any sort of first-round pick in return for him, now.
- Bob McKenzie
said two weeks ago
that he expected 13 or more teams to be in contention for Drouin's services, including Anaheim, Calgary, Colorado, Columbus, Montreal, Nashville, both New York teams, Ottawa, Pittsburgh, St. Louis, Vancouver, and Winnipeg. I wonder how much that list has shrunk by now.
- Drouin to Calgary seems to be somewhat of a fit, with many of the team's wingers - including Jiri Hudler, Lance Bouma, and David Jones - slumping or injured. Perhaps they'd be able to give up one (or both) of Morgan Klimchuk and Emile Poirier, their two top wing prospects, for Drouin.
- Another team that looks to be a good fit is the Ducks, who are shockingly four points out of a playoff spot at the moment.
- I just can't see the Bolts dealing Drouin to a team in the East.
- Who is to blame for this fiasco? The initial culprit would, at first glance, be Drouin, but Allan Walsh is also taking lots of heat on Twitter. The general consensus regarding the pair's actions is "what were they thinking!?"
- Speaking of Twitter: at this writing, 'Drouin', 'Syracuse', and 'Allan Walsh' were 3 of the top five trends on the social networking site.
- Finally, you have to wonder how Steve Yzerman approaches his players during negotiations. He's had trouble in the past with Martin St. Louis and (still with) Steven Stamkos, and now Drouin looks to be as good as gone.
Could this, at least partially, be on him?